Press Release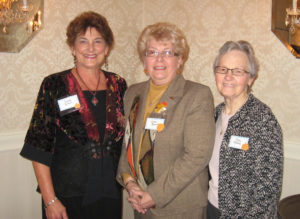 Vineland-Sandy (Meckel) Bohren was instrumental in establishing the local division of Christian Women's Connection.  Over 35 years ago she attended a Christian Women's Club luncheon in Somers Point with a friend and thought our area would benefit from having their own club. The luncheons provide a great networking venue for ladies.  CWC is a non denominational ladies group whose parent organization is Stonecroft Ministries, with a  mission to equip and encourage women to impact their communities with the Gospel of Jesus Christ.
Sandy worked diligently with Esther Brown, the area representative to establish a local club.  A group of ladies met and prayed and before long they started the Vineland Christian Women's Club, in November 1974.  The original advisors were; Sandy (Meckel ) Bohren- Chairman, Helen (Irons) Moore, Patsy Ritchie, and Beth (Thompson) Lewis. The group met  at The White Sparrow in Vineland, however after only six months they reach 275 in attendance and outgrew their location.
They moved a couple times over the years and  have recently returned to Vineland at The Ramada Inn.  They also changed their name to better describe their location to the Garden State Christian Women's Connection.  On November 12th, they celebrated 35 years, under the current leadership team of Nancy (Sloan) Smith-Chairman, Lucy Sparacio, Dianne Wayne, and Lillian Bostwick. Today Sandy remains involved as the Area Representative.